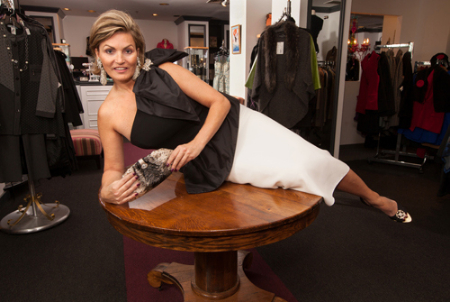 Since 1965, family-owned Octavia II has been dressing the women of Baltimore in fashions that are both sophisticated and distinguished. Run by Betsy Wendell, the granddaughter-in-law of the boutique's founder, Octavia II has earned a reputation as a go-to stop for women with impeccable taste, who appreciate top-notch service.
In addition to having a great eye, Wendell is a strong advocate for Baltimore's local fashion retail community. "If you don't support the local stores, you can't expect to get the best designers or looks," she says. "If you buy online or while on vacation and don't support the locals, slowly, the availability will dry up. My best customers have always told me, 'We made it in Baltimore, we are going to spend it in Baltimore.'"
Here, Wendell dishes on the story behind Octavia II and what's hot in the store this season:

How did you get started at Octavia II?
Octavia is a family business opened by my grandmother-in-law, Octavia Dugan. Octavia was friends with Jim Rouse, who asked her if she'd like to open a store in this thing called a "mall." My career in fashion was far less creative in its infancy. Pageants and modeling shoots – I was wearing the clothes, not designing and selling them. Eventually, I found my niche buying the clothes from around the world, hand-picking designs and colors just for my clients – dressing some of Baltimore's (and beyond's) most elite fashionistas.

What is your favorite thing in the shop right now?
My favorite items in the shop right now have got to be our incredible selection of jewelry from Gay Boyer, now called Boyer New York. Our "Pebbles and Bam Bam" necklace would make even Barbara Bush proud! Magnetic closures on the necklaces make it so even with our "old eyes," we can wear fashionable pieces.
What is your go-to holiday gift recommendation?
The best holiday gift is our reversible fur trim rain jacket. It reverses to rainwear and is great for travel. It's affordable at $1,095. It's two coats in one and light as a feather.
For something easier on the wallet, I love our Thymes Reed Diffusers in the Frasier Fir scent, which are $65 for the liquid scent bottle, decorative container and reeds. It will last more than just this year and is a favorite gift among our customers – and the proprietors!
What style icon or celebrity could you imagine shopping at Octavia II?
There have been many – but we would never kiss and tell at Octavia! One day, maybe I will write a book…and hopefully my fellow Cross Keys proprietors will contribute their own chapters.
Octavia originally opened her doors to "spread the word of the Lord." Everyone is a celebrity in that scenario!
What's new and exciting at Octavia II? Any trends for this fall and winter?
The best trend right now is color, color and more color. Ponchos are ruling the runways of our shows and skinny leggings from Lysse and Not Your Daughters Jeans have the market covered this year. Everyone is buying into it. It has taken decades for the skinny pant to return and I'm planning on it staying for a while. Get on the wagon.
Octavia II is located at 94 Village Square in the Village at Cross Keys in Baltimore.  For more information, visit the Octavia II Facebook page or call 410-323-3066.